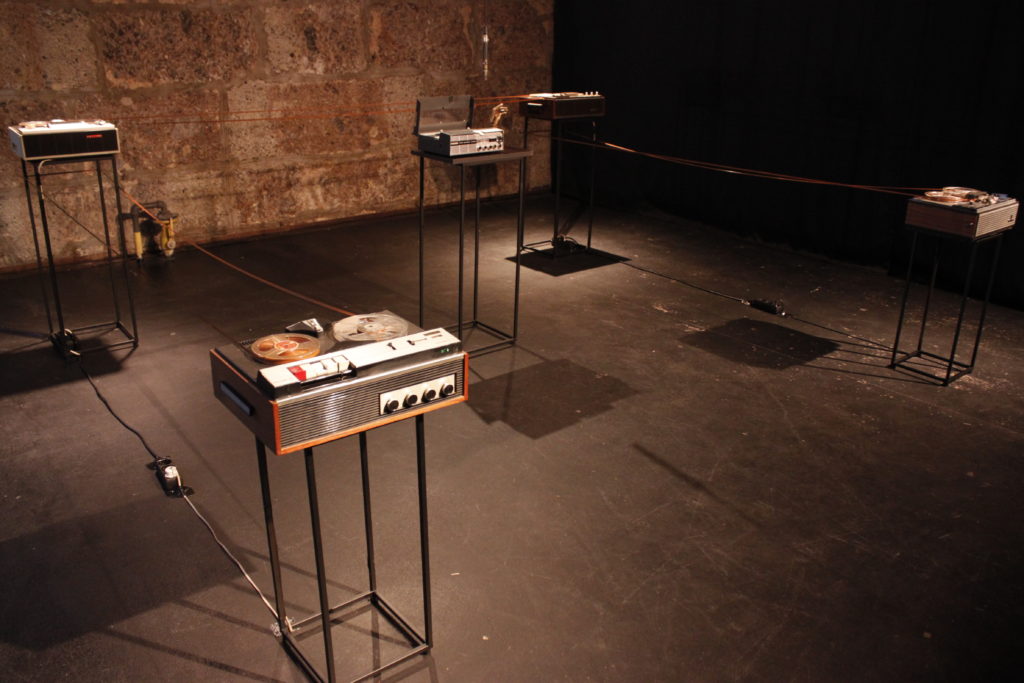 memoire
In his sound installation "memoire", the sound artist Lukas Moritz Wegscheider deals with remembering and forgetting.
It seems like a lot has been forgotten right now.
ver|ges|sen / Ver|ges|sen
du vergisst, er/sie/es vergisst; vergessen; vergiss!; etwas vergessen
1. aus dem Gedächtnis verlieren; nicht behalten, sich nicht merken können
2. nicht [mehr] an jemanden, etwas denken
3. die Beherrschung über sich selbst verlieren

er|in|nern / Er|in|ne|rung
du erinnerst, er/sie/es erinnert; erinnern; erinnere!; sich erinnern
1. die Erinnerung an jemanden, etwas bei jemandem wachrufen; wieder ins Bewusstsein rufen
2. veranlassen, an etwas zu denken, jemanden, etwas nicht zu vergessen
3. durch seine Ähnlichkeit ins Bewusstsein bringen
4. vorbringen, zu bedenken geben
Was in Raum A, als das Abbild von Geschehenem, also als erste Erinnerung dargestellt wird, wird in Raum B in recycelter Form noch einmal aufgegriffen und konfrontiert erneut. Eine erinnerte Erinnerung.
Die Installation thematisiert, dass man nicht einfach vergessen kann, dass man nicht einfach vergessen macht und dass man sich auch nach vergessenem Vergessen, immer wieder an Vergessenes erinnern wird.
Von vergessenem Vergessen – zur erinnerten Erinnerung.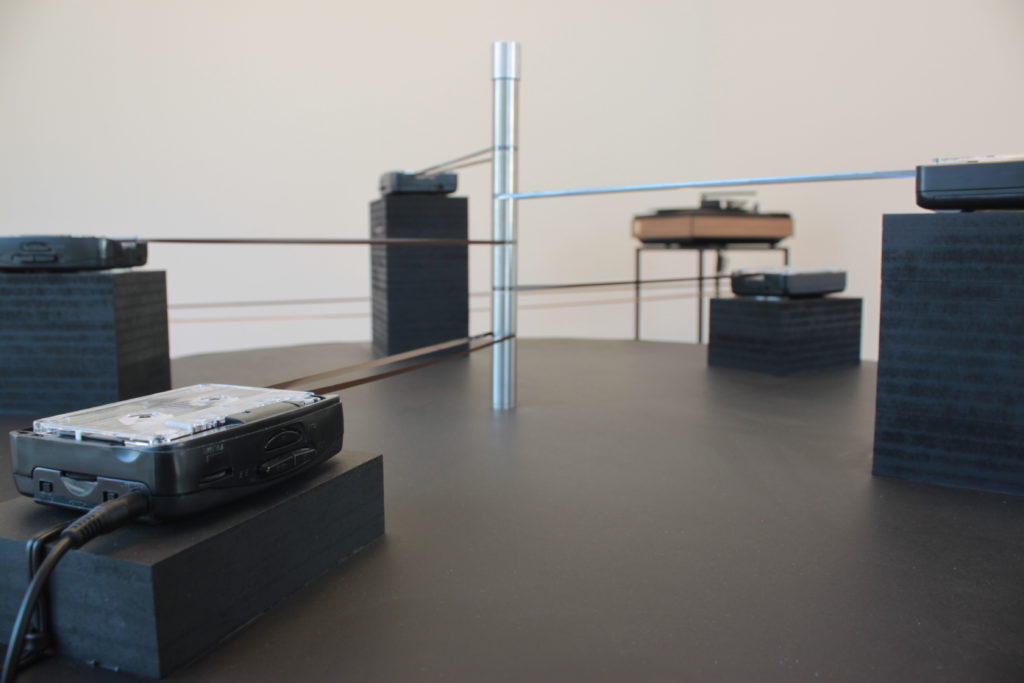 Take Me Round Again
Take Me Round Again is a sound installation Lukas Moritz Wegscheider made in autumn of 2019 at the Talstation in Innsbruck. The Installation is placed in a room with a big window. It consists of four objects: a sculpture with cassette tapeloops, a turntable with a manipulated vinyl record, a normal cassette player and a reel to reel tape machine with a very long tapeloop that moves throw the whole room. The sound is sent by a transmitter so it can be listened with a radio, a smartphone or with the Weltenempfänger (a small radio for shortwave radio frequencies) which is installed outside the room.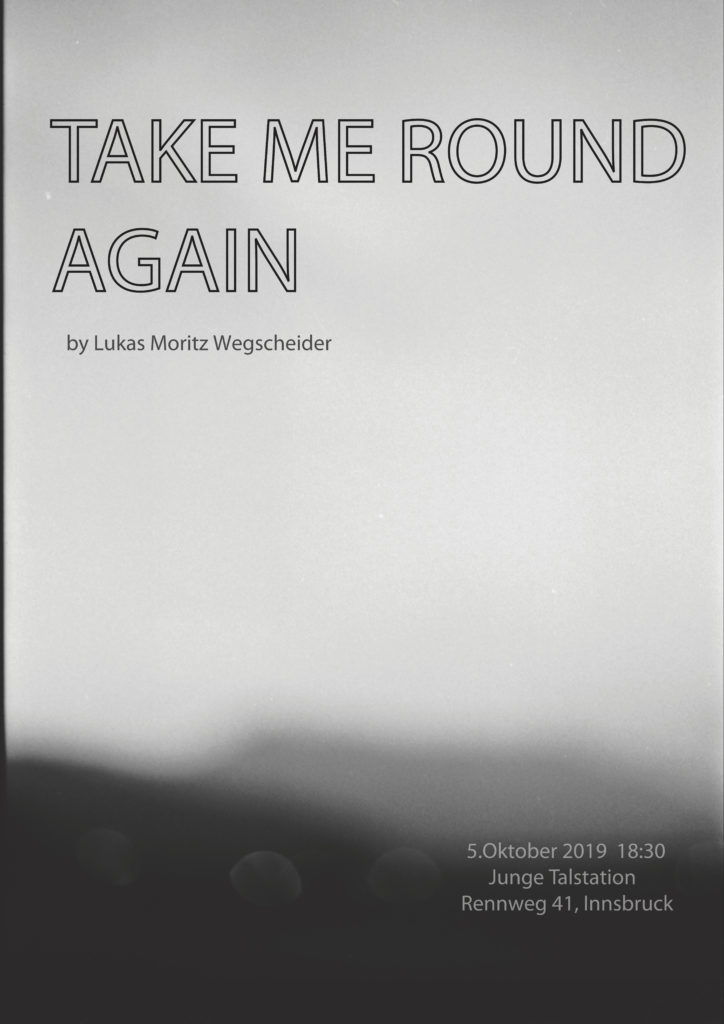 VERNISSAGE + Eröffnungskonzert: Sa, 5.10.2019, 18:30
Description:
The subtle impression presented in the room reminds of what might have been. Sound material is layered in repetition and standing surfaces suggest alleged standstill. The alienation of the sounds expands the scope of possibilities and the generated spatial-atmospheric impressions become a memory of their origin. By viewing the enclosed space, impressions are made accessible to the public. The sound can be heard via the world receiver installed on the shop window, if the radio frequency is set correctly. Thus, the abstracted space integrates into the concrete environment and completes the impression.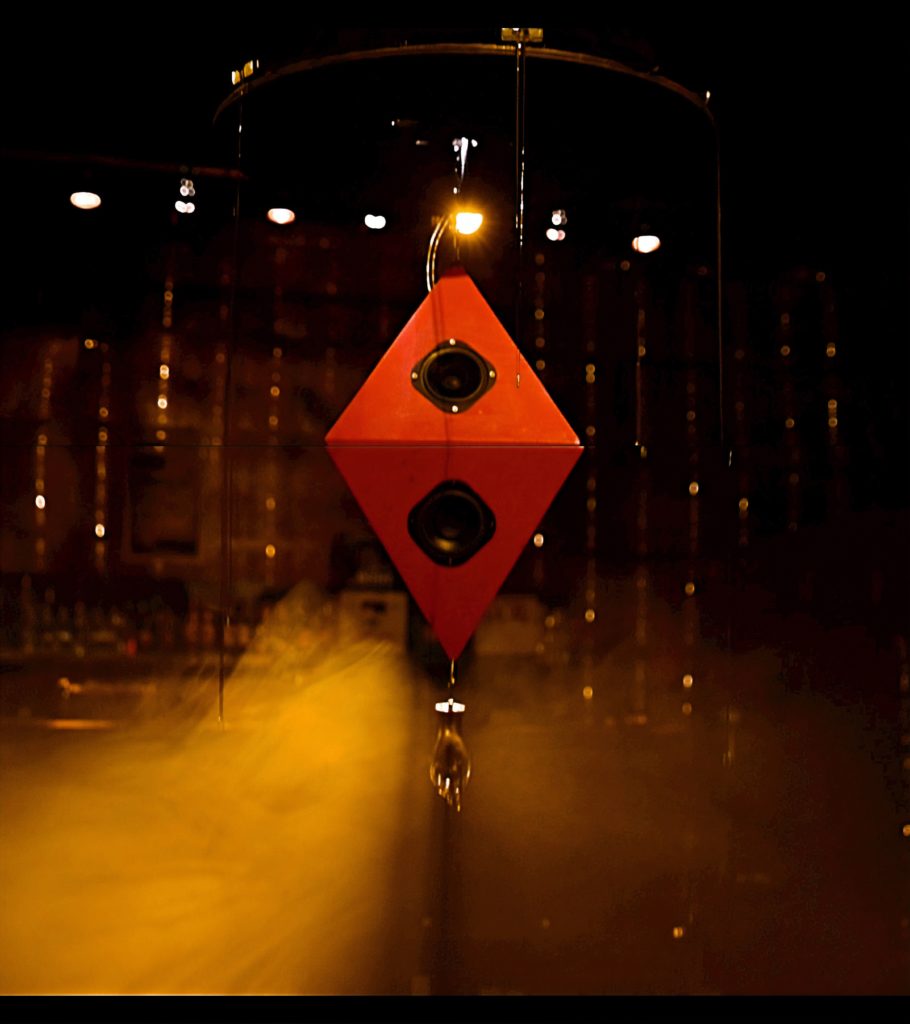 Sacred
Sacred is a sound installation Lukas Moritz Wegscheider made in the summer of 2018 at the Postgarage in Graz. The installation is based on a sculpture, which consists of basically three parts.
The upper part holds the technical aspects of the sound sculpture.
Five walkmans are mounted on the top, from which five long tapeloops in different lenghts hang down and generate the sound.
The middle part consists of speaker in a similar shape of a hexaeder with one loudspeaker on each of the six faces. And on the bottom part
a golden hand is mounted. The installation was sponsored by the Bundesministerium für Bildung, Wissenschaft und Forschung.
Thanks to Winfried Ritsch and the IEM Kunstuni Graz.
Droneophone
In the summer of 2016 Lukas Moritz Wegscheider created a custom made Instrument, the Droneophone.
The Instrument is a electro-acoustical string instrument with three strings, a bar to play different tunings
and a sustainer. With the sustainer it is possible to hold tones infinitely long and because of physical interference
created by the movement of the strings, the instruments playes pulsating waves of drones.